196 -- -- -- -- 196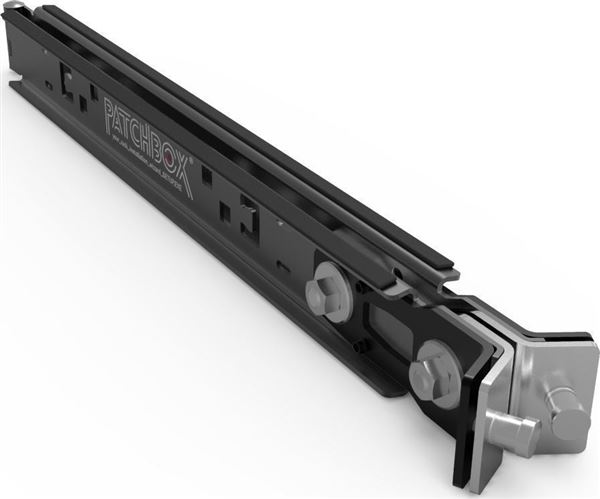 Order number:

PBXEXE

GTIN/EAN

0674376605246
PATCHBOX SETUP.EXE THE RACK INSTALLATION WIZARD
more
PATCHBOX SETUP.EXE THE RACK INSTALLATION WIZARD
Simplify Hardware Installation.
The Setup.exe enables one technician to do the job of two. The Setup.exe secures the weight of equipment, such as switches, in server and network racks until they are securely screwed in. Mounted inside out of a rack the Setup.exe creates the ideal workspace to place a laptop during configuration or terminating a patch panel.
MOUNTED IN SECONDS.
The Setup.exe comes with two spring loaded bolt plungers that safely secure the Setup.exe in place. The brackets can also be adjusted to fit 19" rails with different thicknesses and are made from durable stainless steel. The body of the Setup.exe is aluminum to save weight on your service trips.
MOBILE WORKSPACE.
Easily configure Switches, Servers etc. with two hands while the Setup.exe holds your Laptop for you. One side is rubberized so your Laptop does not slip off.
YOUR IRREPLACEABLE THIRD HAND.
The Setup.exe will become your valuable third hand. No more acts of balancing expensive equipment with one hand while trying to get the screws in with the other. The Setup.exe holds equipment with up to 50kg for you effortlessly.
YOUR TOOLS WITH YOU ALWAYS.
The Setup.exe has holes to place spare cage nuts in. You can also put some Velcro on it to mount all kinds of tools to it so you always have them with you. Cable ties also have their own spot for times when you need to heavily secure something.
LIFETIME WARRANTY
You only need one.
HEAVY DUTY
Supports you with gear up to 50kg.
ADJUSTABLE
To fit all square punched holes.
FAST MOUNTED
Mounted in seconds.